Grieco Ford of Raynham Parts Department: 
Are you the type of person who likes to do a little bit of your own routine maintenance and service? Are you excited about customizing your Ford and making it your own? The customers who come to our parts department tend to be people with an independent and self-reliant flair. They also tend to be creative and take a lot of pride in their Ford vehicle. If you think this describes you, consider coming to the parts department at Grieco Ford of Raynham, located at 1651 New State Highway in Raynham, MA.
A Helpful and Knowledgeable Staff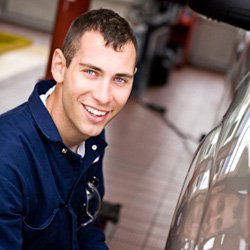 One of the best things about our parts department is that our staff is friendly and very knowledgeable in all things related to Ford parts and accessories. They will be able to answer any question you may have about a part you may need or whether there is an accessory available to customize your current Ford vehicle. We have a large selection of parts in stock at the dealership but can order anything you need that we don't have in stock. The parts associates will even be able to make suggestions on parts and accessories that you might not know about to make your job easier.
Parts to Ensure Performance
Our parts department sells genuine, authentic Ford parts. One reason we do this is because that they are the parts recommended to use in a Ford car, truck, SUV, or van. They are the only parts manufactured with the same standards of the original part they are replacing. Additionally, they also have the same guarantees of performance that the original part did. Using authentic, genuine Ford parts is a good way to ensure that your Ford continues to perform to the highest standards and doesn't suffer any consequences from using an aftermarket product. While aftermarket products may work in a Ford, they can cause undue wear and tear over the course of time, leading to an expensive repair.
Visit Us Soon
The parts department at Grieco Ford of Raynham, in Raynham, MA, has a strong commitment to customer service. Come visit us with any of your part and accessory needs and let us show you why we have become a trusted and respected resource for the area.